Welcome to Bonfiglioli's Auto Service, Inc.
Did You Know?
At Bonfiglioli's Auto Service, Inc. buying a vehicle has never been easier!
All work guaranteed!
Used cars bought and sold!
All cars are safety inspected!
Free vehicle history reports available!
Experienced Mechanics!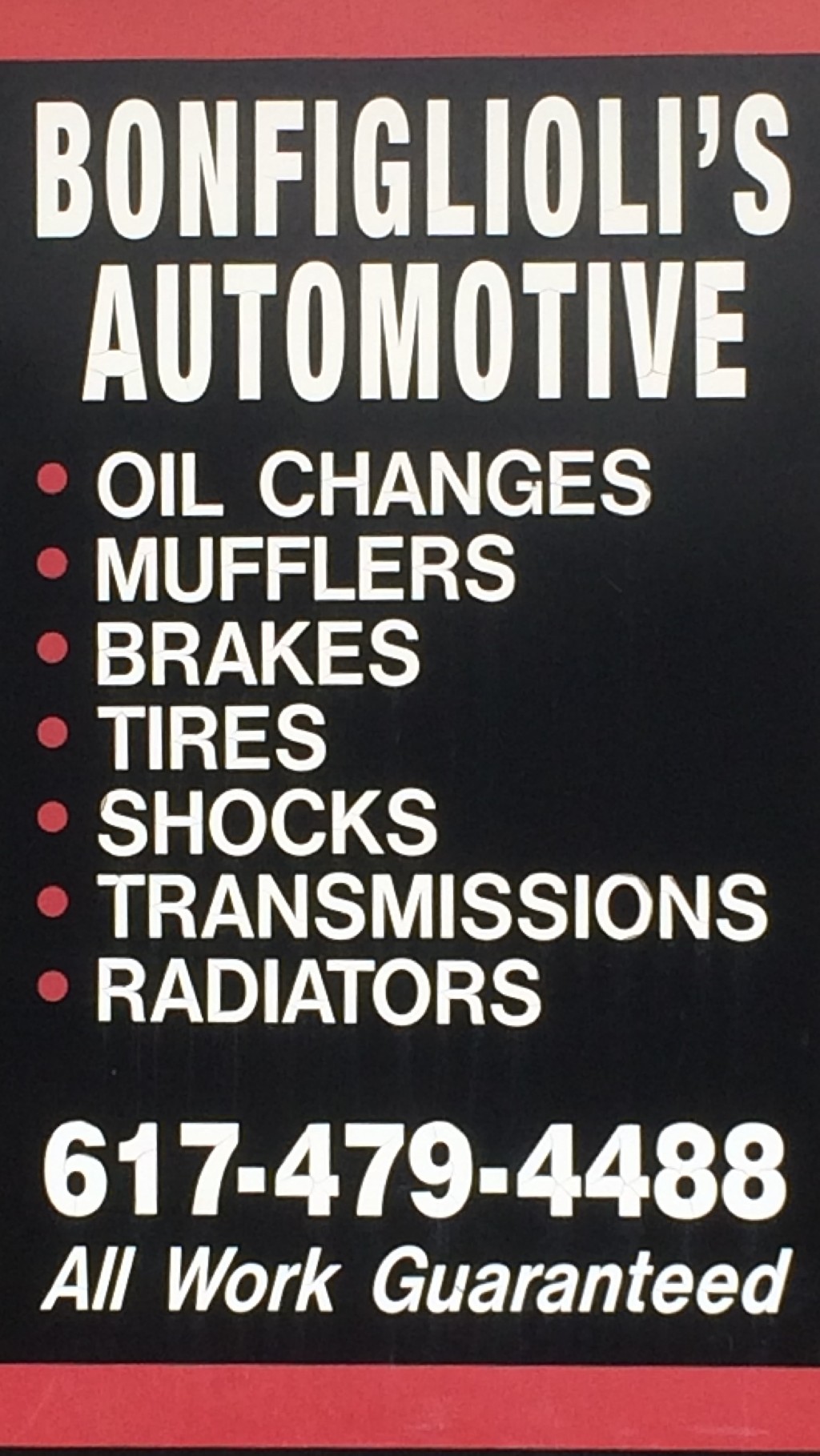 Servicing the Quincy area since 1977, two blocks from the Wollaston T station.
Computer diagnostic repair. Five star muffler center. Quick oil changes. Tire repair and rotation. We'll buy your used car even if you do not buy a car from us.
*reviewed on yelp.com* 5.0 star rating 4/20/2012 I don't bring my car here for service. BUT, I do go here every week and get my gas!! AND..to be honest...their gas prices are always .02-.03 cents more then the gas station across the street! But, I go here because the attendant here is the absolute best. He's so kind and is always nice and polite! He's fast and efficient and just is an all around nice guy! It's nice every now and then to see a smiling face instead of someone who could care less about their job!!
Kathy - Randolph, MA
*reviewed on yelp.com* 5.0 star rating 3/7/2012 This place is great, I love bringing my car here, and the manager is so nice and willing to work with you! I was quoted $600 for some rear struts I needed and they only charged me $400! I promise they will not let you down- I know someone that personally knows the owner- they have been around for a very long time. Also- if you call they can change your oil same day! If you need anything else done they can also usually do it same day/or the next day (I usually call in the afternoon so that's completely reasonable) I FINALLY found a good shop for my car and am not afraid of getting ripped off when I come here=)
Caitlin- Boston, MA
*reviewed on yelp.com* 5.0 star rating 1/28/2016 Love love love this place...owner is great & hands on. He will give you a fair price and get the work done the same day. Just had my brakes done & I am happy with the work. Highly recommend if your looking for an honest, experienced mechanic.
Tammy- Braintree, MA