Welcome to Bonfiglioli's Auto Service, Inc.
Did You Know?
At Bonfiglioli's Auto Service, Inc. buying a vehicle has never been easier!
All work guaranteed!
Used cars bought and sold!
All cars are safety inspected!
Free vehicle history reports available!
Experienced Mechanics!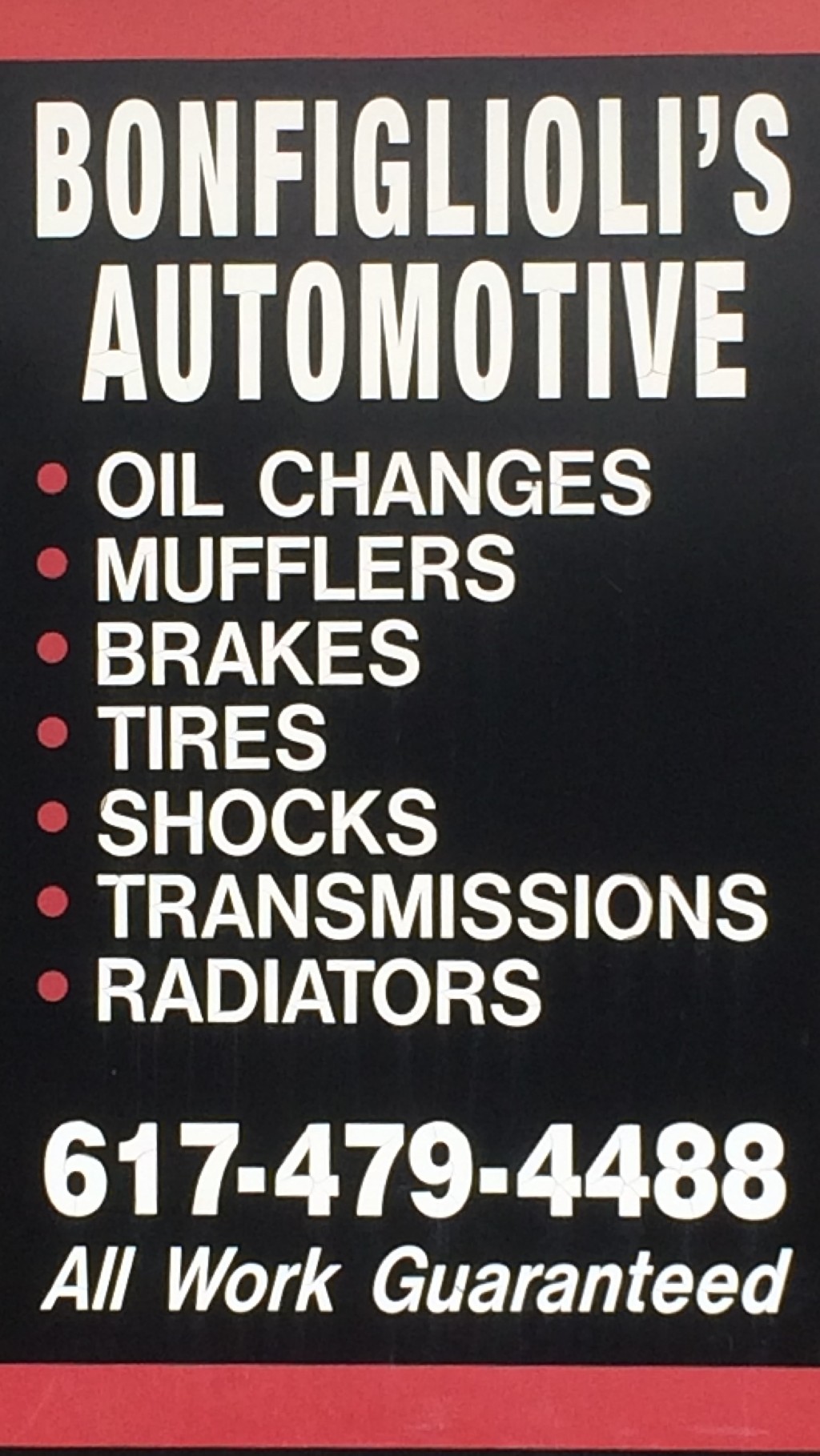 Servicing the Quincy area since 1977, two blocks from the Wollaston T station.
Computer diagnostic repair. Five star muffler center. Quick oil changes. Tire repair and rotation. We'll buy your used car even if you do not buy a car from us.
I've been a long time customer and I am always happy with the service provided by the experienced mechanics at Bonfiglioli's. I have bought several cars from Steve as well, to name a few a Camry in the 1990's, a Dodge Caravan in the early 2000's, and a Rav4 as early as 2012. Great shop and quality work!
Annette- Weymouth, MA
*reviewed on yelp.com* 5.0 star rating 9/1/2013 Bonfigliolis is a family business started by Steve Bonfiglioli senior many years ago. Steve junior worked under his father for a good many of those years and was given the business upon his fathers retirement. This place will absolutely not do anything unless you need it. Steve will always take the most economical approach. Steve is as honest as his father and abides by the same philosophy of being honest. The honesty and quality of work has paid off with many loyal customers, ourselves being one of them. Steve also specializes in used Toyotas which he sells. We bought a 2005 Corolla LE a former lease car with 48,000 miles on it in 2008 for $8000.00 and it is still like a new car. Steve stands behind these cars and if within a reasonable time something goes wrong he will fix it. We trust Steve implicitly for everything to do with cars and highly recommend his business to anyone looking for an honest mechanic.
Captian B.- Weymouth, MA
*reviewed on yelp.com* 5.0 star rating 1/28/2016 Love love love this place...owner is great & hands on. He will give you a fair price and get the work done the same day. Just had my brakes done & I am happy with the work. Highly recommend if your looking for an honest, experienced mechanic.
Tammy- Braintree, MA